This year, once again, the­re was the gre­at oppor­tu­ni­ty for YATA mem­bers to par­ti­ci­pa­te in the Ber­lin Secu­ri­ty Con­fe­rence on Novem­ber 26–27. YATA Ger­ma­ny had an info booth in order to pro­mo­te the invol­ve­ment of today's youth and future lea­ders in secu­ri­ty and defen­se mat­ters as well as to spread infor­ma­ti­on about its own and the Ger­man Atlan­tic Association's (Deut­sche Atlan­ti­sche Gesell­schaft) work. Seven moti­va­ted young vol­un­te­ers super­vi­sed the booth and had the oppor­tu­ni­ty to access high-level panel discussions.
"Euro­pe and its exter­nal chal­len­ges – a 360° approach in uncer­tain times" was the mot­to of this year's Ber­lin Secu­ri­ty Con­fe­rence, which took place in the Vien­na House Andel's Ber­lin. Dr. Hans-Gert Pöt­te­ring, for­mer Pre­si­dent of the Euro­pean Par­lia­ment, Repre­sen­ta­ti­ve for Euro­pean Affairs of the Kon­rad-Ade­nau­er Foun­da­ti­on ope­ned this Con­gress on Euro­pean Secu­ri­ty and Defen­se now in its 18th year. In his speech he stres­sed out the need for the EU to do much more in secu­ri­ty and defen­se in the future in order to face the dete­rio­ra­ting inter­na­tio­nal envi­ron­ment and the gro­wing inter- and trans­na­tio­nal threats.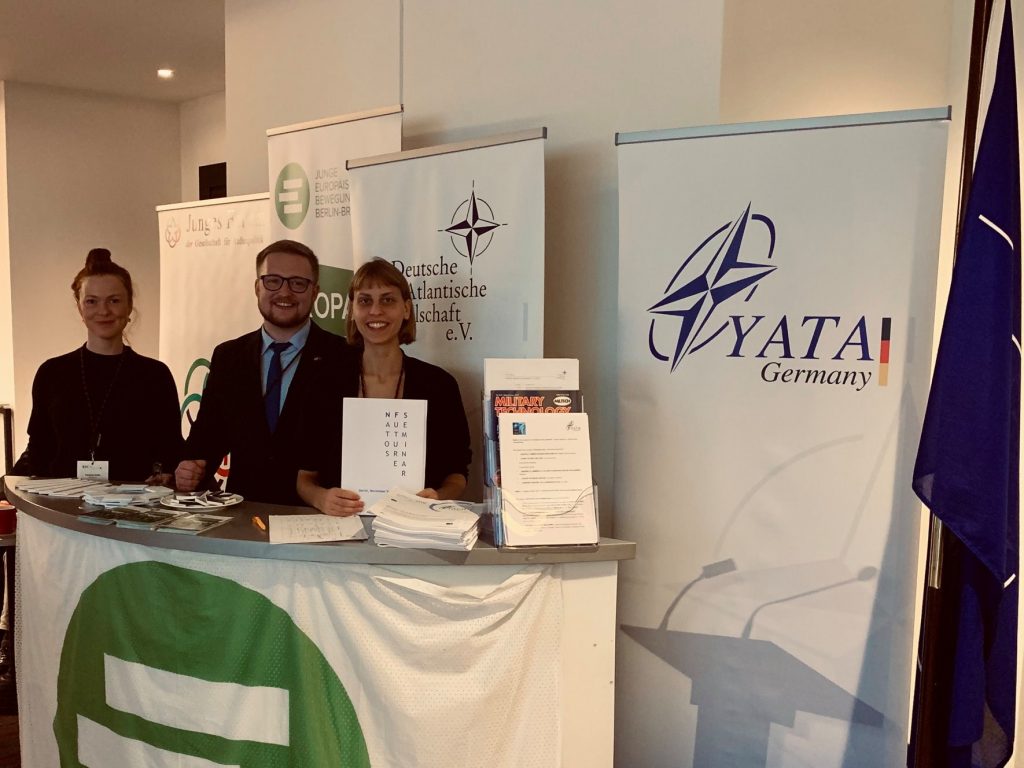 Loren­zo Gueri­ni, Italy's Minis­ter of Defen­se and Miros­lav Lajcák, Minis­ter of For­eign and Euro­pean Affairs of the Slo­vak Repu­blic, spo­ke then in favor of a mutu­al com­ple­men­ta­ri­ty bet­ween NATO and the EU. The neigh­bo­ring coun­try, Ita­ly, was this year's part­ner of the BSC. Given the more com­plex secu­ri­ty situa­ti­on, the mul­ti­po­lar world, and incre­a­sing hybrid thre­ats the 360° approach of this year's mot­to is urgent­ly needed.
The key­note spee­ches also made clear "We can­not defend our­sel­ves without the US" but at the same time, Euro­pe must con­ti­nue and find the cou­ra­ge to invest in its own secu­ri­ty and the sta­bi­liz­a­ti­on of its neigh­bour­hood. We need NATO and a strong Euro­pe to deal with the cur­rent nume­rous thre­ats and the resul­ting secu­ri­ty chal­len­ges. But strength alo­ne is not enough: »Euro­pe must act,« empha­si­zed the spea­kers. Again this year, Rus­sia has been repeated­ly in the focus. Against this cur­rent back­ground, the ple­na­ry lis­tened very atten­tively to the words of Rus­si­an Depu­ty For­eign Minis­ter Alex­an­der Grush­ko, who, unsur­pri­sin­gly, pre­sen­ted his government's view.
In addi­ti­on to Euro­pean secu­ri­ty and regio­nal sta­bi­li­ty and the rela­ti­ons­hip bet­ween EU and NATO, the Medi­ter­ra­ne­an Sea and North Afri­ca, PESCO and the EU Defen­se stra­te­gy, Arms Con­trol, and many other issu­es have been addres­sed. In the panels, 10 altog­e­ther, more con­cre­te chal­len­ges and initia­ti­ves as well as tech­no­lo­gy, rese­arch, deve­lo­p­ment and pro­cu­re­ment have been discussed.
It was an extra­or­di­na­ry oppor­tu­ni­ty for inte­res­ted YATA mem­bers to fol­low up on poli­ti­cal, indus­tri­al but also mili­ta­ry insights of the inter­na­tio­nal secu­ri­ty and defen­se dis­cour­se and to net­work with some experts.