This year, once again, there was the great opportunity for YATA members to participate in the Berlin Security Conference on November 26–27. YATA Germany had an info booth in order to promote the involvement of today's youth and future leaders in security and defense matters as well as to spread information about its own and the German Atlantic Association's (Deutsche Atlantische Gesellschaft) work. Seven motivated young volunteers supervised the booth and had the opportunity to access high-level panel discussions.
"Europe and its external challenges – a 360° approach in uncertain times" was the motto of this year's Berlin Security Conference, which took place in the Vienna House Andel's Berlin. Dr. Hans-Gert Pöttering, former President of the European Parliament, Representative for European Affairs of the Konrad-Adenauer Foundation opened this Congress on European Security and Defense now in its 18th year. In his speech he stressed out the need for the EU to do much more in security and defense in the future in order to face the deteriorating international environment and the growing inter- and transnational threats.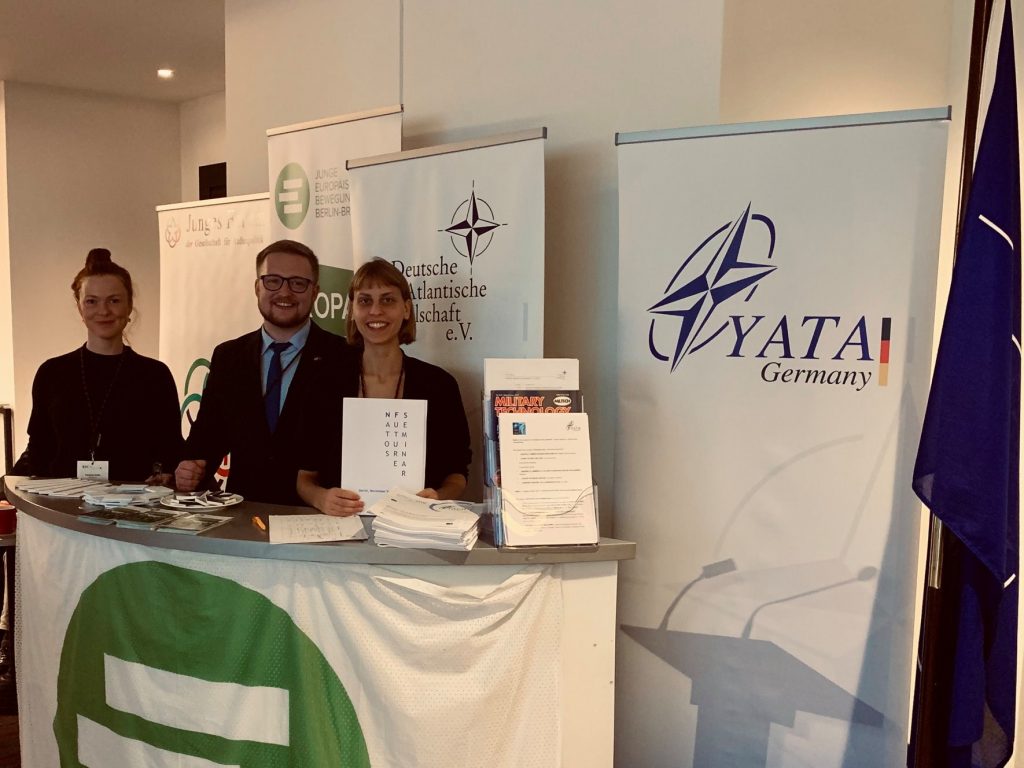 Lorenzo Guerini, Italy's Minister of Defense and Miroslav Lajcák, Minister of Foreign and European Affairs of the Slovak Republic, spoke then in favor of a mutual complementarity between NATO and the EU. The neighboring country, Italy, was this year's partner of the BSC. Given the more complex security situation, the multipolar world, and increasing hybrid threats the 360° approach of this year's motto is urgently needed.
The keynote speeches also made clear "We cannot defend ourselves without the US" but at the same time, Europe must continue and find the courage to invest in its own security and the stabilization of its neighbourhood. We need NATO and a strong Europe to deal with the current numerous threats and the resulting security challenges. But strength alone is not enough: »Europe must act,« emphasized the speakers. Again this year, Russia has been repeatedly in the focus. Against this current background, the plenary listened very attentively to the words of Russian Deputy Foreign Minister Alexander Grushko, who, unsurprisingly, presented his government's view.
In addition to European security and regional stability and the relationship between EU and NATO, the Mediterranean Sea and North Africa, PESCO and the EU Defense strategy, Arms Control, and many other issues have been addressed. In the panels, 10 altogether, more concrete challenges and initiatives as well as technology, research, development and procurement have been discussed.
It was an extraordinary opportunity for interested YATA members to follow up on political, industrial but also military insights of the international security and defense discourse and to network with some experts.